Patient Testimonials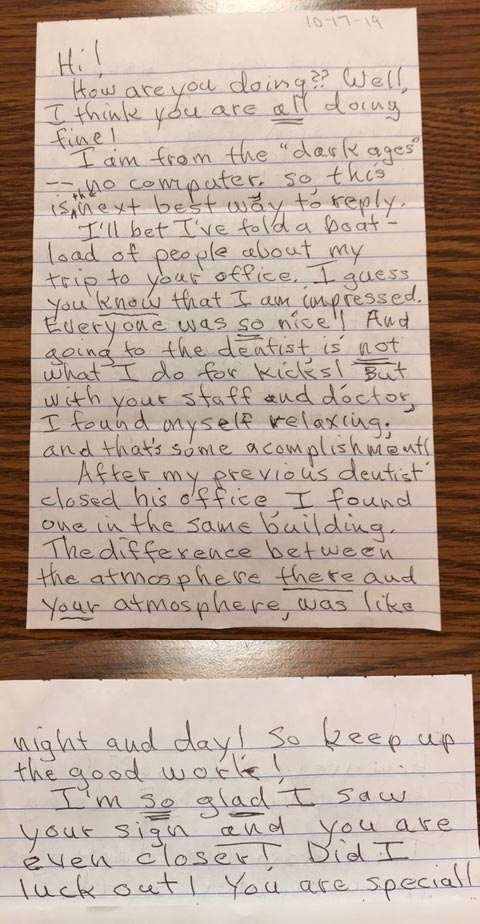 ---
I have had nothing but good experiences at this office.
---
I've been coming to this location for 2 years now ! He and his employees do a amazing job! They are very professional and do an amazing job! Iv had alot of work done and no complaints, I wouldn't go anywhere else!
---
Cassie is very thorough yet gentle cleaning my teeth.
---
We love Dr. Rivardo and his whole staff. We came here after going to a chain type dentist and find this practice much better! In fact we switched our whole family to Dr. Rivardo, all five of us! We don't feel like we are number here and they do a great job taking care of us and our kids. The dental hygienists are excellent, very friendly and always point out important points such as making sure to floss and making sure to brush your gums in addition to your teeth, all very important items! Last week I went to get my teeth cleaned with Cassandra, and she pointed out an area in my gums that I was missing brushing by showing me in a mirror how my gums were getting red, I had no idea this was happening in much appreciate how she showed this to me to make it very visual. Would highly recommend this dentist to anyone!
---
Going here is always so pleasant. It makes you want to go to the dentist! Staff is always so kind and helpful! I would recommend this dental office to all friends and family! Cassandra is super friendly and does great cleaning, always leaving there fresh and clean!
---
I've had nothing but good experiences at Dr. Rivardo's office. Cassie, the dental hygienist, does a great job. She's knowledgeable, easy to talk to, and provides good practical tips for flossing and brushing. -T.King
---
I 5-star rated Dr. Rick a year ago and I continue to believe he deserves a 5-star rating. He offers patients new services because he believes in continuing education and he invests in equipment that allows him to serve his patients in office rather than sending them to yet another doctor. I also like his staff members because they have wonderful senses of humor. Go Dr. Rick...keep up the good work.
---
I just love this office. So much that I switched insurances so that I can keep being a patient. The staff are SO accommodating, down-to-earth, and well, like family! Jessie is always helpful when it comes down to figuring out the dreaded financial part. As a single woman, that means so much to me. Dr. Rivardo always takes time to be very thorough. Plus, he's funny and makes you feel comfortable! LOVE THIS OFFICE!!!!!
---
Very nice and friendly people
---
Absolutely the best dentist appt. and cleaning I've ever had. The staff was very pleasant, thorough, and explained everything in great detail. I've avoided the dentist for years but not anymore now that I have found this office.